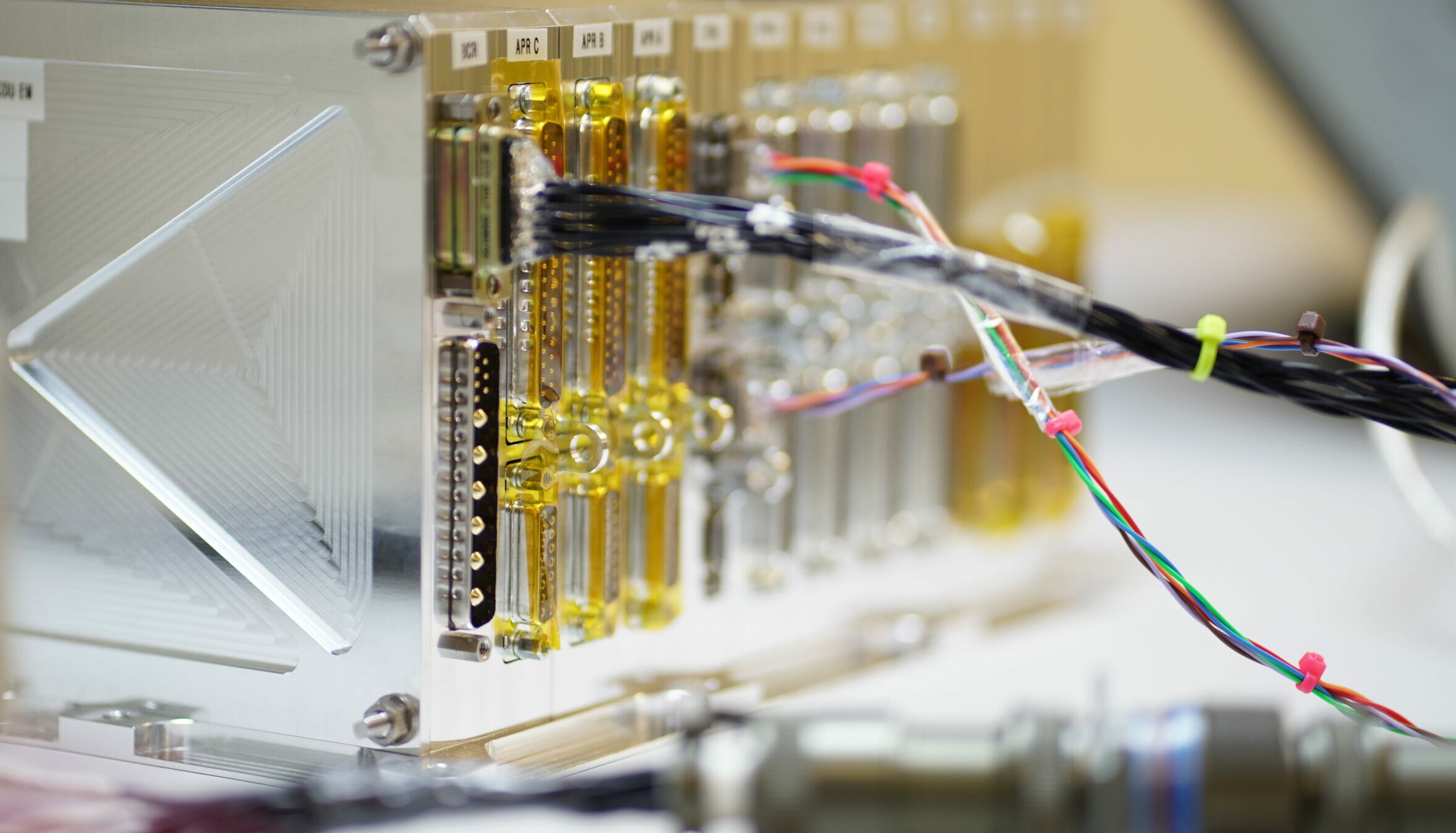 Sirius Command & Data Handling that #WorksEveryTimeOnTime
AAC Clyde Space are Europe's leading supplier of Command and Data Handling (C&DH) solutions for satellite missions. Our precision solutions support an ever-expanding range of applications, from cutting-edge science to earth observation and the Internet of Things. Designing satellites and space missions is complicated. There are all sorts of things to consider, like how much data will you process, the computing performance needed for your mission, do you need GPS or have large mass memory requirements. Choosing the right solutions for your satellites can be a complex and time-consuming exercise. But AAC Clyde Space can make it a lot easier to choose the right C&DH solutions. Customers can leverage many tens of thousands of engineering hours in development and continuous improvements as an off-the-shelf solution.
With over 70 units sold and our reputation for reliability and performance gaining ever more traction from our customers world-wide, our adaptable Sirius OBC LEON3FT and Sirius TCM LEON3FT solutions are renowned not only for their ease of integration but for their 'always-on' real-time operation with enhanced precision performance. A reputation we are both proud of as a provider, but we're also pleased to say our customers are happy to confirm too.
AAC Clyde Space delivered two sets of Sirius C&DH units to Kawasaki Heavy Industries, Ltd. in 2019 to be used in their space debris removal technology demonstration satellites, planned for launch in FY2021. Kawasaki has been developing space debris removal technologies since 2011, aimed at removing upper-stage sections of rockets launched by Japan. Their demonstration satellite designed will test technologies including target debris detection using image sensors, maneuvering the satellite close to debris, and grasping of debris by extending arm.
"Kawasaki selected the AAC Clyde Space high-performance Sirius computing solutions because of the excellent functional specifications, ease of integration, reliable 'always-on' operations and market reputation. The flight proven units work as the main onboard computer for the KHI small satellite platform intended for our upcoming debris removal missions. "Project manager said.
Space debris removal will be one of the key technologies for long term utilization of low earth orbit space assets and affordable access to space. We're very proud to have been chosen by a leader of Japanese space innovation. Japan has quietly taken the lead in a revolution of advanced commercial space missions, including missions that previously were only attempted by national agencies. AAC Clyde Space are experiencing an ever-growing demand in this market and is now one of the main suppliers of avionics subsystems to support those missions, Sirius avionics products are recognized as the de-facto avionics equipment for high quality "New Space" missions.
Millions of pieces of 'space junk' are orbiting the Earth as a side-effect of human exploration and exploitation of space. The pieces range from tiny fragments of bigger objects such as rocket boosters to full-sized pieces of now-defunct equipment. Working satellites and spacecraft can be damaged by collisions with debris, which can travel at velocities of several kilometres per second. Today, more than 34'000 man-made objects measuring over 10 cm in diameter are tracked as they orbit around Earth. Tackling the problem of space junk is the responsibility of today's generation, we need to actively remove this space debris now for the next generation of space users.
AAC Clyde Space are proud to support ClearSpace SA, and in turn Airbus, in their mission to remove the first > 100 kg debris from Space by 2025. A mission intended to develop technology, find, capture and deorbit end of life satellites and space junk. The ClearSpace technology is to capture debris and bring it to elliptical orbits with sufficient aerodrag at perigeum and then to release it. The capturer thereafter flies up again to care for the next debris. Debris parts moved to aerodrag orbits will burn up after a few cycles. This way the capturer can serve for multiple debris cleanups until finally running out of fuel and burning up itself.
ClearSpace SA, Switzerland, who had won the ESA ADRIOS CS1 debris removal mission, selected the Airbus "Flexible LEO Platform" (FLP2) as base for the Core Avionics Assembly and for the Flight Software of the spacecraft. The FLP2 onboard computer includes the AAC Clyde Space Sirius TCM mass memory unit. Flight proven across multiple mission applications for a range of customer requirements, this solution has a reputation for reliability and performance for advanced small and nano-satellite missions.
"For this pioneering mission we were looking for dependable data handling technology to accommodate into our challenging ADRIOS-CS1 Core Avionics Assembly. The Sirius TCM Mass Memory Unit fits our high-performance, reliability, form factor and SpaceWire interface requirements perfectly", said Jens Eickhoff from Airbus Defence and Space, Future Programs Germany & Professor for Satellite Technology and Operations at Universität Stuttgart.
Our satellite solutions have been gaining momentum in the small satellite market for over a decade. With a strong track record in our core market, with government, commercial, and educational organizations around the world our commercially focused solutions have demonstrated impressive space-based capabilities stretching across a range of applications.
Our Sirius range, including Onboard Computer (OBC), TCM and Development Kits for larger spacecraft, has been developed with an extensive system knowledge and experience across many missions meaning there is almost certainly a system ready to meet your needs. But if there isn't, we also have a proven track record of adapting to customer specific needs and flexing our systems to include add-ons. Satellite developers can be sure that customer service and satisfaction is AAC Clyde Space's number one priority.
"AAC Clyde Space has been a valuable partner that was able to help our team to develop the product specifications and support our spacecraft integration and assembly teams, quickly and reliably. We chose their power systems solution because of the excellent functional specifications, the unparalleled support with tools for development of our application, the ease of integration, and above all, the reliability and excellent build quality of the equipment, something which is vitally important to York." Michael Lajczok, Director of Programs & Operations for York Space Systems
Developed to deliver 'always-on' operation with flexibility across multiple mission applications and customer requirements, we're proud to say they work-every-time-on-time. Reliability and high performance are key design elements of our data handling system, which include features such as, Error Detection and Correction (EDAC), and Non-Volatile & Flash Memory. Designed to support price-sensitive commercial missions and incorporating flight proven processors and innovative hardware/firmware recovery mechanisms, our highly miniaturized Sirius range delivers high-performance computing and data handling competitively for the most demanding missions.
"ALE selected the AAC Clyde Space the Sirius solutions because of the excellent functional specifications and ease of integration. Incorporating flight proven processors and innovative hardware/firmware recovery mechanisms, the Sirius TCM boasts 16 GB mass storage and CCSDS encoding as standard enabling the high-performance for our flexible satellite operations. We are pleased that the Sirius TCM has allowed us to utilize several ground stations to link our cutting-edge satellites, proving to be reliable and robust data handling system." Hiroki Kitamura, Senior Space System Engineer, ALE Co., LTD.
At AAC Clyde Space we pride ourselves on the fact that we think about what our customers need at every stage of our product lifecycle and by actively focusing on design for manufacture and test we are able to produce consistent and repeatable high-quality subsystems. Quick assembly of standardised Sirius; OBC, TCM and development Kits is made possible through the use of a combination of automated and manual manufacturing and testing techniques, utilising our audited preferred supply chain partners and through the reuse of proven, modular designs.
For more information on the Sirius Range please visit our product page HERE   
If you have any questions or would like to know more about Sirius Command & Data Handling solutions, please get in touch with is today HERE or feel free to DM us on social media.
Sign up to our newsletters for the latest news, projects and more delivered straight to your inbox
"*" indicates required fields