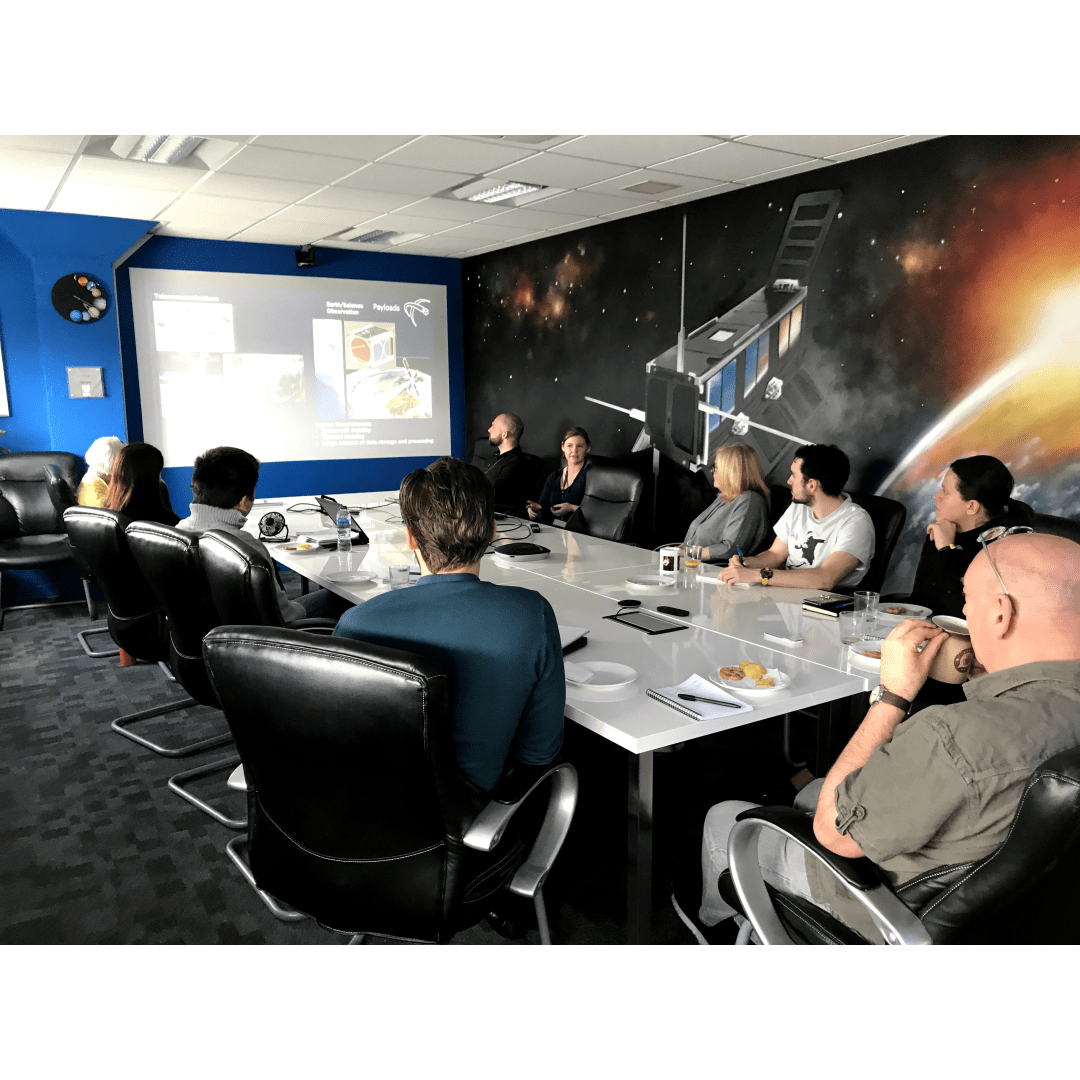 Our Growing Team: Meet the New Guys
We're excited to introduce the new guys! We've been expanding the AAC Clyde Space team over the past few months as we scale up production, develop our next generation of small satellite products and expand our capabilities and awesome services. They are here to tell you some background on their career journey and their new roles at the company.
Arjen Jongschaap – Systems Engineer
I started at AAC Clyde Space in June 2020 as a mission system engineer and my day is often a mix of talking to the customers, working with engineers, and keeping a technical overview of the project. I'm really enjoying the variation in things to do, but particularly getting to work with other disciplines and learning from them.
I graduated from Delft University of Technology in 2018 with a masters in Space System Engineering and went on to work for the European Space Agency as a Trainee in safety engineering for human spaceflight. It was a great introduction to space and I'm excited to apply my experiences here at AAC Clyde Space.
Philip Bellstedt – Digital Electronics Engineer
Since I can remember, I've been passionate about aerospace. This led me to study engineering and in early 2015 I graduated with a Masters in Electronic Engineering from Stellenbosch University (South Africa). Since then I've been fortunate to work in the satellite industry as a Digital Electronics Engineer. I've worked on high-speed digital designs for various satellites – from 2U CubeSats to 300kg SmallSats – and am proud to say that some of my work is even orbiting the moon!
I started working for AAC Clyde Space in April 2020. As a Digital Electronics Engineer, I design, build and test digital electronic systems. I enjoy working in the multi-disciplinary team, especially because my background in Mechatronic Engineering (BEng) helps me to bridge the gap between disciplines. With my South African background, I also bring a different perspective and problem-solving approach to the team. I'm looking forward to working on many interesting projects as part of the AAC Clyde Space team.
Jonathan Barks – Project Manager
I joined AAC Clyde Space in July 2020, after many years' experience in Project Management roles, based in Scotland, in electronics manufacturing, oil and gas, and most recently microwave communications.
Originally qualified with a BEng in Mechanical Engineering and a Postgraduate Degree in Physics, I completed an MBA from Edinburgh University along the way, which supported my path from early Engineering roles into Project Management.
I enjoy the fact that Engineering based projects tend to involve most parts of an organisation – they give a broad perspective, combined with the satisfaction of having something tangible to show for the teams' efforts at the end!
Space is something I've been interested in since I was a kid – so I'm excited to be working in that sector now!
Adam Bell – AOCS Engineer
I joined AAC Clyde Space at the start of the summer 2020 as part of the control systems engineering team, having previously worked for another small satellite company in Glasgow. I hold both a Masters and Bachelor degree in Aeronautical Engineering from the University of Glasgow.  It was whilst I was there, I developed an interest in space and control engineering.
My role as an AOCS engineer involves maintaining the current control system, satellite simulation, on-orbit analysis, and client liaison. Being an engineer in this area provides me with a fantastic learning opportunity to work with many other departments in the company.
I am very much looking forward to working with, and contributing to, this great team.
Victor Requena – AIT Engineer
I graduated in Aeronautical Engineering at the Technical University of Madrid in 2014. After working for some time and graduating in my Master's Degree in Space Science and Technology, I joined the engineering group in charge of developing the Dust Sensor, one of the instruments on board the Exomars 2020 mission. After moving to the United Kingdom, I briefly worked modelling distribution power lines before re-joining the Exomars project, this time as part of the Rover team.
I joined AAC Clyde Space in March 2020 as an AIT engineer. In this role, I am responsible for the assembly, integration and test activities of the platforms developed by the Company. It is an exciting position, because it will allow me to expand and deepen my knowledge of the different disciplines involved in the manufacture of a satellite.
James Haldane – AIT Technician
I started working with AAC Clyde Space in March this year and had the unfortunate timing of my first week in the cleanroom coinciding with the first week of lockdown due to the coronavirus epidemic. We didn't let that stop us though and have been in looking at ways to improve and standardise the AIT process.
I studied at University of the West of Scotland where I gained my BEng Hons in Mechatronics, which is a modern blend of Mechanical and Electronics engineering heavily focused on programming and robotics.
I'm really interested in what we're doing here at AAC Clyde Space and I'm really enthusiastic about interacting with the other members of the team when hopefully we'll be seeing more back in the offices.
Stuart McNaught – AIT Technician
As an older new start, my career began 30 years ago when I joined DMC Telecom, a supplier of digital microwave communication radios, from there I went through college studying Electronic and Electrical Engineering.  Over the years within this company I worked in various roles gaining knowledge about the assembly, test, installation, commissioning and repair of digital wireless network communication systems.
I joined AAC Clyde Space in March as an AIT technician and I am looking forward to working on new projects and the challenges that they bring.
Gary Morton – Head of Production
I began my career as a mechanical engineer in 1995 before moving into the Electronics semiconductor industry with Motorola in 1997 focussing on smartcard and contactless banking digital products.
I worked through my education as a day release student graduating in 2004 with an Honours degree in Electronics. I moved from digital banking to mixed signal audio consumer products when I joined Wolfson Microelectronics in 2006 as a Product Engineer and over time I took more of an interest in the operations side of the business. In 2013 I became Manager of Operations Engineering at Wolfson, responsible for Fab, Assembly, Test, Supply Chain and PCB design. In 2014, Wolfson was acquired by Cirrus Logic and I began to focus on our MEMS Microphone division. In 2016, I became Manager of MEMS Operations and was directly responsible for delivering a best in class Microphone test solution while delivering customer approval for mass production.
Finally, I joined AAC Clyde Space in May 2020 as Head of Production and my goal is to grow the manufacturing side of the business creating a world leading Satellite production line with a best in class supply chain and second to none reputation for good quality and on time delivery.
If you are interested in joining the AAC Clyde Space family make sure to keep an eye out on our careers page for any future vacancies or get in touch through careers@aac-clydespace.com.
Sign up to our newsletters for the latest news, projects and more delivered straight to your inbox
"*" indicates required fields