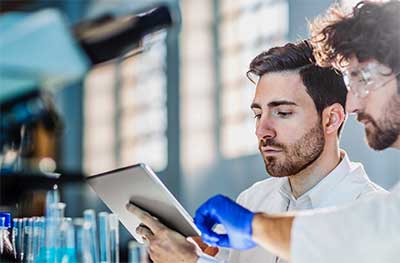 Meet the Business Development Team!
Our events and conferences for 2020 have went digital so for now our business development team will be introducing themselves virtually. Meet our BD team, giving you some insight into what they do here at AAC Clyde Space, their career and educational background and what they enjoy about working at the company.
Peter Anderson – VP Business Development
I am VP Business Development for AAC Clyde Space, responsible for the sales and marketing of our awesome products and services, and for the development of future business. I work with a world-class team and have access to some of the most talented engineering and support staff I have ever had the pleasure to work with. Working at AAC Clyde Space is never a bore…#spaceisawesome!
I came to Glasgow to study Mechanical Engineering at the University of Glasgow, achieving a BEng (Hons) degree, but ended up enrolling in a management scheme for a local company. I spent a little over 3 years there, working from a Graduate to General Manager, building a solid foundation in how businesses work and what makes customers happy – it's when I first got involved in sales and marketing.
However, engineering was always my passion, and I headed back to university, this time picking up a Postgraduate Diploma in Computer Aided Engineering with Analysis – a lot of CAD/FEA/CFD/CAM and various other acronyms! I was lucky to land a job at a firm that developed piping designs and from there I took my last role before AAC Clyde Space as a Vibration Analysis Engineer working on oil rigs across the globe.
Working at AAC Clyde Space has allowed me to draw on these experiences as I work with our customers to understand their challenges, our engineering teams to push what is possible, and our management team on the best way to engage with our market.
Long may it continue….
Mattias Örth – Head of Business Development (Subsystems)
I have an educational background in engineering with a M.Sc in Mechanical Engineering.
Before I came to AAC Clyde Space I worked in the automotive industry with all-wheel drive systems for cars with customers like GM, Volvo and Lamborghini. I also worked a couple of years with heavy vehicles. Please have a look at my LinkedIn as well.
In AAC Clyde Space I have had the opportunity to work with a number of different things from project management to operations management and now in business development. Working in the Business Development team means that I meet with many new and existing customers and my job is to use these contacts to create new business opportunities for the company. Also to interact and engage with national agencies, associations and partners in various forums. From meeting many of our customers in person at conferences, exhibitions and business trips the Covid-19 situation has dramatically changed this into a digital way of meeting and creating new business opportunities. The transition to that a majority of our colleagues and customers are working from home has worked out better than I could have anticipated.
The two things that I enjoy the most working in AAC Clyde Space are, first of all the engaged and talented colleagues that I get the opportunity to both learn from and also perhaps share experiences with. Secondly working in this vibrant, challenging and massively growing environment that the New Space industry really is. Also from a business perspective with new novel, extraordinary ideas on how to use the access to space that New Space has enabled and also the innovation and technology that is constantly evolving at a great rate of speed making new application reliant on space based assets possible.
Pam Anderson – Head of Institutional Engagement
I studied Aero-Mechanical Engineering at Strathclyde. I then stayed at the University to do a PhD in Mechanical and Aerospace Engineering doing research in Mission Analysis and Design for new orbits for observation of the Earth's Polar Regions.
I joined AAC Clyde Space as the Head of Institutional Engagement in March 2020. I work in the Business Development Team and engage with Space Agencies, like the European Space Agency (ESA) and the UK Space Agency, to look at how we can support the development of new technology at AAC Clyde Space. I will also be working closely with Universities to form collaborations and understand how their research activities could support our Technology Roadmaps. Prior to my role at AAC Clyde Space I worked at The European Space Agency Business Applications Regional Ambassador for Scotland and Northern Ireland.
It's great to work with such a fantastic team who all have the same enthusiasm for space and innovation. Being part of the thriving space sector in Scotland is also a privilege, there are so many fantastic things happening on our doorstep.
Jane McLeod– Bid Manager
I joined AAC Clyde Space almost four years ago and am currently working as Bid Manager within the AAC Clyde Space Business Development team, responsible for building close relationships with our customers in the space industry, supporting their CubeSat, satellite and spacecraft subsystem projects and ensuring that AAC Clyde Space continues to deliver excellent customer service.  I work with the wider Business Development team to increase awareness of the company brand, communicate key product differentiators and grow our customer base in the global space industry.
Every day is a busy one at AAC Clyde Space and no two days are ever the same!  It's great to be part of such a dynamic team in a rapidly growing company within the space sector.  I especially enjoy building new relationships with customers from all over the world and nurturing relationships with existing customers.  The most rewarding aspect of working in business development is helping customers to solve their problems.
I studied Information Management with French & German at Glasgow Caledonian University, and then went on to gain a Professional Certificate in Marketing with the Chartered Institute of Marketing.
Prior to joining AAC Clyde Space I worked in the Oil & Gas Industry for many years and spent 16 years working for Gas Measurement Instruments Ltd in a Sales, Marketing and Product management capacity.  I had never actually considered a career in the space industry and was surprised to learn that such a company was based on the outskirts of Glasgow City Centre.  An opportunity cropped up that grabbed my attention and seemed like a challenge, so I thought I'd give it a go.
Gus Beveridge – Bid Manager
I initially moved to Glasgow back in 2012, to study Aeronautical Engineering at the University of Glasgow. I graduated with a Masters in 2017 and a few months later I started at AAC Clyde Space as a Sales Engineer. Initially my plan had been to test the waters in Business Development and maybe try to move over to a more technical role if it turned out BD wasn't for me, but I ended up loving my role in the BD team and I haven't really looked back.
Not too long after starting, my job title changed to Bid Manager and my role transitioned from a focus on subsystem sales to focussing on bids and proposals for commercial platforms, missions and services. Being able to work with our customers and technical teams across a range of really cool mission concepts is great; each mission has its own nuances and challenges which definitely keeps my job interesting.
Having such a vibrant space industry in Glasgow isn't something that I ever anticipated when I first moved here, I count myself lucky to be part of that as well as such a capable and passionate team!
Libby Hoban – Marketing & Communications.
I'm both analytical and creative so marketing gives me an opportunity to exercise both parts of my brain. I'm also a people person and working with people is a huge part of a marketer's role (I'm the loud person in the office).  I started working for AAC Clyde Space in November 2015 as a Marketing & Communications Associate in the Business Development department. Previously, I was a Marketing Executive & Events Coordinator at Scotland's largest travel organisation.
I was responsible for the rebrand of Clyde Space and subsequently the rebrand of AAC Clyde Space in 2019. My job role is really varied and includes all areas of the marketing mix, from using digital through to traditional forms of marketing such as creating content for PR, implementing  the Marketing and Communications Strategy, supporting the BD team, organising events to developing relationships with stakeholders to the business. My role is fast-paced, and I love the fact that every day is different, from creating product content for social media to coordinating BBC interviews in our cleanroom. I'm really grateful to work in such a fantastic team that all have infectious enthusiasm for space, in a fun and dynamic environment.
I studied Business with Marketing at Glasgow Caledonian University, which included time spent studying at the Hochschule für Technik und Wirtschaft Berlin, a city I fell in love with whilst backpacking.
Niki Lonsdale – Sales & Marketing Administrator
I joined the business development team at AAC Clyde Space in December 2019 as a sales and marketing administrator. My sales role consists of building relationships with customers from across the globe, finding out more about their project requirements and finding solutions, specifically in relation to our subsystem products. The marketing side of my role varies week to week with a general focus on events and conferences, social media, digital content, website upkeep and much more. I love the fact that my tasks vary each week as it keeps things exciting and I am always busy doing something new. I settled into my role very easily which was helped by having such a great team around me.
I graduated from The University of Strathclyde with a BA in Marketing and Business Law in 2018. Following this I worked for a start-up health food company in Glasgow as a marketing assistant before joining the AAC Clyde Space team.
Par Sallstrom – Bid Manager & Export Control Manager
I first started at AAC Clyde Space as process engineer working with the clean room manufacturing team setting up new processes for high end packaging solutions. Later on, as growing more experienced with the space business, I transferred over to the business development team making use of my studies in Economics. In the last few years I have also parted my time with handling of Export Compliance related issues within the company. During my time in the Business Development team I have met a lot of incredible people all over the world, all driving towards the same goals. AAC Clyde Space is a versatile place to work in, in a very rapidly growing business field where new things happen every day. Being in the New Space business, new technology and companies arise daily it seems, and the work is adapted to meet new needs all the time
I have an engineering background and hold a MSc degree in Material Engineering from Uppsala University. Early in my studies I felt the need to get a better understanding in where and how to make value out of my engineering skills from a business perspective, so in parallel I started studying Economics and received a Bachelor degree within this field as well when graduating. After graduating I started my carrier at Silex Microsystems, a Swedish manufacturing facility producing high end Microelectromechanical systems, where I was part of a team responsible for the start-up of a state-of-the-art wafer production line. I stayed at Silex for a few years and then moved over to AAC Clyde Space.
Chisato Kobayashi – Bid Manager
My first encounter with AAC Clyde Space was back in 2005 when I was working for a microsatellite project in Japan, which led my first visit to Glasgow. I remember the taxi journey to the company and had a good feeling about the place – but never dreamed that I would be living here and working for them many years later!
After completing a MSc in Satellite Engineering at the University of Surrey, I was lucky to be given the chance to join the company in 2012. I really enjoyed my first role as a Spacecraft Sales Engineer (a job title something you won't find in a drop-down list!) The best part of the job for me was the process of finding out the customers' passion behind those dry requirements and be able to contribute to achieving their goal. That's still the element I most enjoy as a Bid Manager, my current role since I came back to the company in 2018.
I'm so grateful that the company was very supportive when I got an opportunity to work for the United Nations Office for Outer Space Affairs in 2013. The experience I got there as a Programme Officer, engaged in capacity building for non-space-faring countries is invaluable and certainly useful for my present role here. After I left the UN, I was fortunate to have chances to learn new technologies such as Deep Learning and DLT (e.g. blockchain) through my work for Craft Prospect and Trade in Space. All those experiences are also proving very useful for my current work and I'll definitely keep learning – well, hoping it's true that you're never too old to learn…
Now I'm back at AAC Clyde Space and very lucky again to be working with all these amazing people on exciting projects. The best colleagues I could ever ask for!
To get in touch with our business development team for sales and marketing enquiries please email enquires@aac-clydespace.com
Sign up to our newsletters for the latest news, projects and more delivered straight to your inbox
"*" indicates required fields