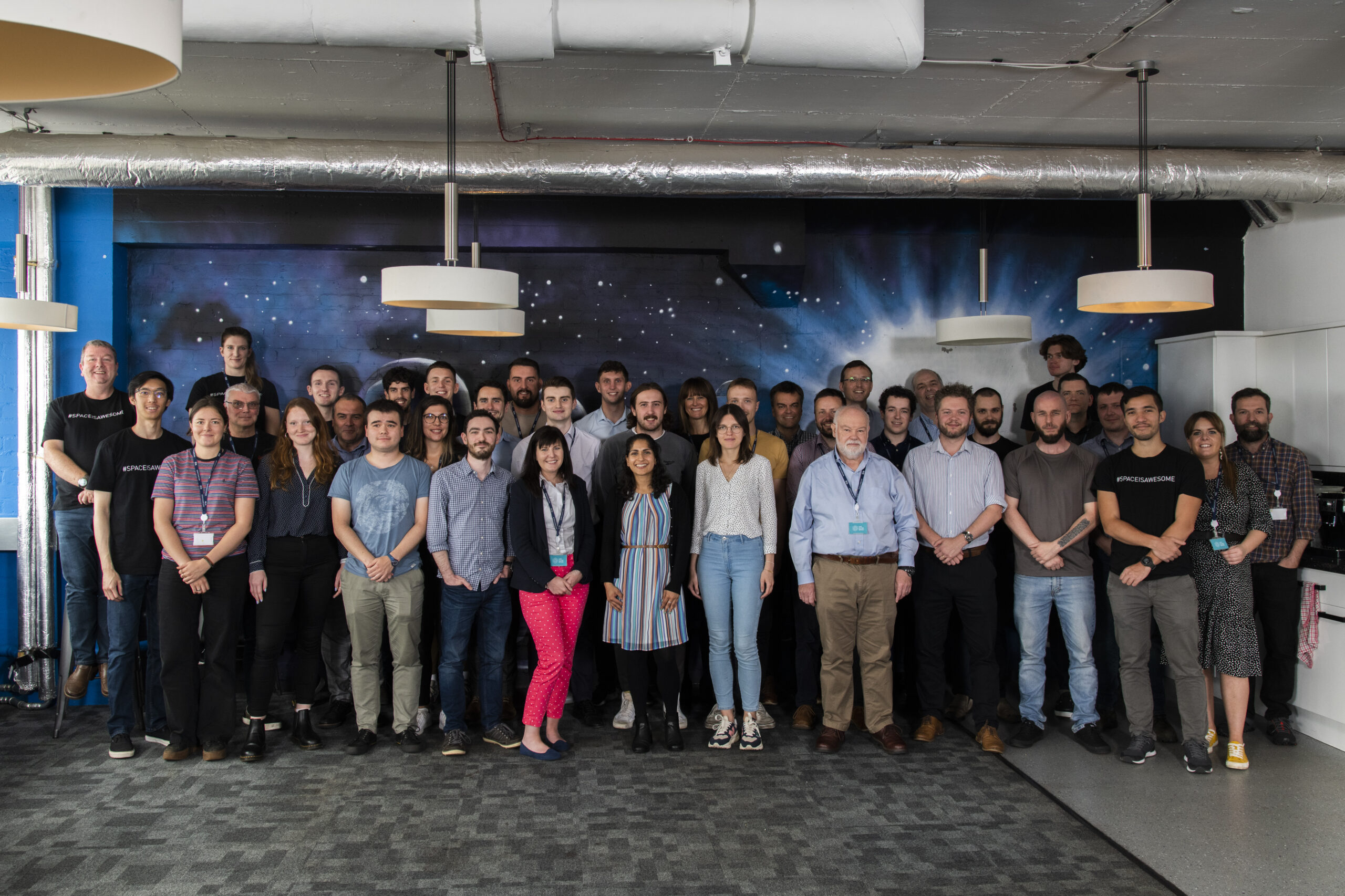 The AAC Clyde Space team continuous to grow as the company expands, and we've had the pleasure of welcoming new AAC Clyde Spacers to our dynamic team over the past few months. We are here to show them off and introduce you to them, their new roles in the company and a little bit about what they were up to prior to joining us, so let's get into it…
Sue Kee – Head of Business Development, Missions & Services
I started at AAC Clyde Space in November 2020 and have been running at full pelt ever since! It's a real honour to be here and I'm so proud to be part of the company that inspired my career change from IT into space, especially at a time when the business is growing rapidly.
Although my undergrad degree is in Product Design Engineering, after gaining a Masters in IT I spent 15 years in the Technical Support Services division of IBM. Initially gaining experience in supplier management, contract management, sales and pricing, I spent most of my career there leading a team of special bid managers working on large and complex deals before ultimately joining the Senior Leadership Team as Resource Lead for UK and Ireland. Having a long-time interest in space and an awareness of the New Space revolution happening on my doorstep in Glasgow, I decided to go back to University part-time to gain a Postgraduate Certificate in Space Science and decided to follow my passion into a Business Development role at the Scottish Centre of Excellence in Satellite Applications, helping stimulate projects using satellite data and supporting spinouts and start-ups across the nation. One year there and another year in IoT Business Development later, I am thrilled to have landed myself in this fast-paced, AWESOME role!
Every day is a school day for me at AAC Clyde Space – but it is definitely the coolest school. I have to keep up with a lot of technical information and I'm frequently searching for acronym definitions! My job is not about understanding the deep engineering detail though – my aim is to capture enough of the requirements to ensure that we understand and can fulfil our customers' needs, and to ensure that we deliver business value for a successful long-term partnership. And I am excited to be helping to shape our Space as a Service journey – feel free to get in touch if you want to talk more about it!
Ross Young – Head of Talent Acquisition
I first started working with AAC Clyde Space in 2015 part time before joining the team full time in 2020. I enjoy working with the team here and love the company. Since joining as Staff in late 2020 as Head of Talent Acquisition it has been very fast paced and enjoyable watching the company grow at such a busy time.
Since graduating from the Robert Gordon University, I have worked in Technical Engineering recruitment for 15+ years across many sectors including Space but predominantly in Oil Exploration and related services, in Europe and the U.S.A, managing in house recruitment for the likes of BP, Statoil / Equinor (managing the $9 billion Mariner recruitment Project) and a number of SMEs and Start Ups like EarthI.
I have also worked for several government agencies on niche projects and assisted with the House of commons Brexit round table discussions (Scotland) which were interesting but heated to say the least. Aside from the day-to-day recruitment I also get involved in some of the wider HR functions looking at improving policy and process.
Whilst focusing on recruitment for busy projects and business as usual I will also be looking at our talent attraction and talent brand investigating and implementing ways that we can better resource for the company and retain staff with graduate programmes, apprenticeships, advertising, technology/systems, engagement and improving the overall candidate experience from end to end.
Pedro Nogueira – AIT Engineer
Before I moved to AAC Clyde Space, I worked as an AIT Engineer with Earth Observation Satellites at the Brazilian National Institute of Space Research and at Airbus Satellite Factory in Friedrichshafen – Germany. My working experience is mainly in Platform electrical integration and functional testing. After working with big spacecraft platforms, I was interested in AAC Clyde Spaces focus on the nano and micro-satellite market. I did my exchange program at Glasgow Caledonian University, back in 2013, and I fell in love with Scotland and this city, so this was a win-win joining the team.
I have a bachelor's degree in Power Engineering from the University of Brasília in Brazil, and I did my master's degree in Space Technologies at Beihang University (北京航空航天大学) in Beijing – China. My thesis was focused on Modelling and Testing of Micro-Satellite's Electrical Power Subsystems.
My job comprises the preparation, execution and analysis of satellite's integration, testing, verification, and validation. Meaning that in a day-to-day basis I am writing tests and integration procedures, as well was assembling, and testing satellites in the cleanroom. My job goal is to deliver the satellite as a final product, tested and validated against the design requirements.
Ylva Houltz – Senior Project Manager.
I began my career after graduating from Linköping University in Sweden with a MSc in Engineering Physics. I went into the field of medical devices after University, mainly equipment for x-ray imaging. This unexpectedly came in handy when moving on to the Swedish Space Corporation where our scientific payloads using diagnostic X-ray was "a first" in space and won an ESA best parabolic flight experiments award. After 16 years at the Swedish Space Corporation new horizons was needed and I moved on to managing a large medical instrument development team. However, Space started calling me back and Corona downsizing gave me the opportunity to get into orbital spacecraft at RUAG before starting at AAC in end of 2020.
After spending approx. three work weeks at AAC my first impression is a very nice work environment with a skilled and enthusiastic crew, and an up-and-coming space actor to be counted with.
Also – some traces of that space-nerdishness that makes the everyday life so much more fun!
My first assignment at AAC is the VDES IOD project which aims evaluate transmission and reception of VDES communication from space. Another objective of mine is to perform knowledge transfer between Glasgow and Uppsala where I look very much forward to working together with our colleagues in Scotland.
Sandy Provan – Project Manager
I have been fascinated with space for as long as I can remember so a degree in Physics and a career in the space industry makes perfect sense to a ten-year-old me. It's the twenty years of industrial experience that makes my background more rounded.
My first ten years were spent as a quality engineer in the automotive supply chain, dealing with NPI projects amongst many other roles, then a further ten years developing a project management career in an engineering consultancy in the oil & gas and power generation sectors.
I first joined AAC Clyde Space in 2017 as a Project Manager and led the delivery of their largest power sub-system for the ESAIL satellite. Following a break to support a start-up engineering consultancy for a year, I returned to AAC Clyde Space in July 2020 and relish the challenge to support delivering successful projects and play a role in the growth of business, the team and the project management function.
When I'm not embarrassing myself in public wearing a Christmas suit in June, I can be found out getting lost in the wilderness in Pumpkin the VW camper and failing miserably at astrophotography.
Edoardo Mancini – Spacecraft Operations Systems Engineer
Prior to joining AAC Clyde Space in 2020, I was operating as Airline Pilot on a widebody large transport aircraft (B777) for a legacy airline in South East Asia. I started my career as flight instructor and later engaged as Flight Operations Manager for a corporate aviation operator. On becoming an Aerospace Systems Engineer, I led complex and innovative projects with Tier1 aircraft propulsion OEMs, spacecraft manufacturers and operators. My latest role prior to joining AAC Clyde Space I was part of a selected team of specialists to develop the first and most sustainable CubeSat based constellation for real-time and broadband connectivity in the equatorial region of the world.
My educational background consists of an MSc. in Space Systems Engineering and a BEng. In Aerospace Engineering from the University of Southampton, and a BSc. "Cum Laude" in Aeronautics – Aviation Management & Safety from Embry-Riddle Aeronautical University. I am also Member of the Royal Aeronautical Society and the International Council on Systems Engineering (INCOSE).
I am an experienced Systems Engineer in supported of the operations systems' development for a new-space SME's Internet of Things (IoT) CubeSat based constellation. As a System Engineer, I have supported the design of systems and preliminary studies for a constellation of 200 CubeSats for real-time and broadband services. I have led the In-orbit-testing activities and automation of the operations of the 3Diamonds CubeSat mini-constellation, driving processes from operational policy to training development.
Kevin Cuevas – Space Systems Engineer
I joined AAC Clyde Space last July as a Space System's Engineer. I graduated in 2017 as an aerospace engineer at the birthplace of CubeSats, California Polytechnic State University SLO. After graduating, an opportunity came up to work in Europe with our friends in Denmark, Gomspace, and later at German Orbital Systems in Berlin. I've worked in various missions for customers such as the German Aerospace Center, the European Commission, the Colombian Air Force among others. Our industry holds AAC Clyde Space in high regards and I took a chance to work here as soon as the opportunity presented itself.
As a Space System's Engineer, my day-to-day varies vastly, which I love. Overall, I orchestrate the technical aspects of our spacecraft throughout the project lifetime (from design to launch). I pretty much ensure our specialists get the information they need to perform their job and ensure compliance to our customers' requirements. I enjoy learning how people from different disciplines and backgrounds solve problems and this role definitely allows me to do that.
Kasia Bielawska – Systems Engineer
I joined AAC Clyde Space in October 2020. As a Systems Engineer, I am responsible for leading a technical side of one of the CubeSat Platforms being developed. It is a really challenging role, but that's what makes it so interesting and exciting. Thanks to the great support from my colleagues, I am learning something new every day.
I graduated from Warsaw University of Technology in 2018 with a master's in Aerospace Engineering. During my studies I was involved in a polish student CubeSat project, PW-Sat2, which was launched at the end of 2018 on-board the Falcon 9.
Before joining AAC Clyde Space I was System Engineering a graduate trainee at the European Space Agency where I worked on the ARIEL science mission. I also gained some experience in Poland working on space mechanisms for ESA JUICE mission in Astronika. I am really passionate about space so I'm excited to continue my career in space sector at AAC Clyde Space!
Amr Mohamed – AOCS/GNC Engineer
I was looking for AOCS/GNC Positions in the UK and found a position at AAC Clyde Space, as for the first impressions go they were very good! I like that the company is fast paced and the multitude of projects going on and had to get up to speed with the simulations and analysis needed.
I was working as a control system engineer for a robotics company called INOVO robotics for close to 2 years after finishing my masters in Space Engineering at University of Surrey, and before then I worked for about a year at the Egyptian Space Agency in the AOCS/GNC team.
I have recently been working on the NSL2 work package developing new software to improve the performance of the ADCS component. I am now focusing on various other ongoing missions where I am supporting the analysis of pointing, stability, knowledge, power requirements and more.
Jonas Folkesson – Electronics Engineer
I found AAC Clyde Space and the space business interesting for many years and since then I have kept my eyes open for new opportunities. AAC Clyde Space had a position mid-2020 and It was a perfect fit, I joined in august.
I have been working with electronics, FPGA, sensors, signal integrity etc in the telecoms and medical industry in both large and small companies in Sweden and Germany but this is my first position in the space industry. Prior to that I studied electrical engineering in Linköping, Sweden and Darmstadt, Germany.
I am currently working from home (Covid times) but on a day-to-day basis I work with CAD tools, electrical documentation and of course my Teams chats and meetings with colleagues in Uppsala, Glasgow and external partners. From time-to-time I work in the lab and clean-room to test electronics Currently there is an intense phase with specifications and design for an OBC customer that I am working on.  It is tough to start a new job without having a chance to see my colleagues' eye-to-eye. I haven't met any of my team in Glasgow and some colleagues from the Uppsala office yet. I'm looking forward to getting into the office!
Drew Gillespie – Systems Engineer
I first applied to AAC Clyde Space back in May 2020, and whilst at first unsuccessful, I kept in touch throughout the summer and was very excited to finally join the team in November 2020. I enjoy working in the multi-disciplinary environment and learning from other members of the team whilst supporting a broad range of projects. My day is usually a combination of reviewing designs and specifications, coordinating with stakeholders, and supporting other team members, and maintaining a high-level oversight of the technical aspects of the project.
I graduated with a Meng in Aero-Mechanical Engineer from the University of Strathclyde in summer 2020, right in the middle of the pandemic. I kept busy over summer, continuing to work on a project with the Swiss Space Centre that began during my master's year. The project was a great opportunity to gain experience which I routinely put to used here at AAC Clyde Space!
A huge AAC Clyde Space welcome to all our new starts and we hope you are enjoying your new roles as much as we are enjoying having you here. If you think these roles sound interesting or the thought of working at our exciting New Space company sounds exciting, then check out our career opportunities here and join the team!
Sign up to our newsletters for the latest news, projects and more delivered straight to your inbox
"*" indicates required fields